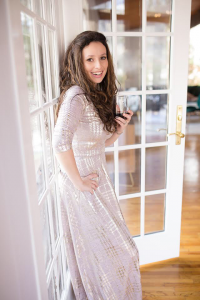 Hi there! I am Kayla of @kayla_llc, making my debut here on oneroomchallenge.com and I am super duper nervous so stick with me!
As an interior designer I have done my fair share of renos but this one is in my own house, and is my own master bathroom, so I'm really excited for it.
Can you believe that I don't have a bathtub? Yeah, that needs to be fixed.
Anyways, Hi!
So… let's start with the before. The bathroom is actually quite large and right now a colossal waste of space. There's an absolutely stunning window that looks out into a forest- and right now has nothing near it. The top half is painted green and the bottom half is tiled that horrible pink beige dirty tile that I am glad to get rid of.
The current sink is a pedestal one, and while I get why they felt they had to do that because of the proximity to the doorway, I think we can fit in a small vanity that will give us storage. Also, I hate pedestal sinks lol.
The toilet and shower are fine but I really want a bathtub so the whole layout here is going to be switched, meaning bye bye joyfuls!
Oh, and also, can we talk about those sconces??? They're actually not connected to electricity- those are real candles. Not sure how that came in.
So, some of the issues we are going to run into is getting a permit to change the plumbing around, I live in a town that's a stickler for the rules. Another issue might be the super super narrow doorway and fitting a tub through it. Oh, and finding a vanity that does not block the doorway.
Alright so let's get to changing this bathroom around shall we? I'm a super rustic girl, my husband is really kind of glam so we are going to have to figure out a compromise. One thing I need- a claw foot tub. One thing he needs- black shiny tile, don't ask.
Thank you to the ORC and Bed Bath and Beyond for hosting this challenge and pushing us designers to actually do our own home! Who is ready? Next week we source!