It finally happened, and right in the nick of time for the awesome one room challenge, I might add.
Thank the good lord above, our region in NY began opening this past week. Construction was allowed, albeit with a lot of conditions that we were actually able to facilitate!
So all day Wednesday we emptied out the bathroom so they can demo. We also moved out of our room completely so that the workers could use the master bedrooms porch to access the room (a requirement due to corona that they not be in the same space as our living space.) It was super cool and gave me the opportunity to organize my closet, as we repurposed the white vanity to there.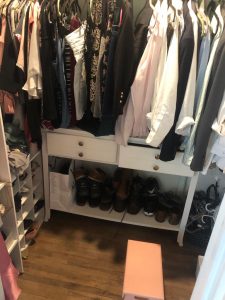 That was fun. Then we moved all the furniture to the side, and the team came in and covered it all up.
Demo is always my favorite part of the renovation- but I do say that about every part. It was so cool to see them taking out the old tiles, and shower and toilet. We actually even found a few surprises!
Those old ugly medieval candle holders- were stuck on the wall with blu-tack! That was shocking, I don't know why we never tried to take them off. We also realized that the speaker system we always wondered about was not connected to anything at all whatsoever. We think it used to be connected to a tv but it was actually a closed circuit.
The best find though was the paneled ceiling. Our house is a ranch and most of that floor has cedar panel ceilings, which we found underneath the sheetrock! We are trying to decide if we should keep it or not- there is no way to install overhead lights if we do not sheetrock, so stay tuned as will I!
Voila, the bathroom was demoed! The workers went home for the weekend and I cannot wait for Monday when the new plumbing goes in, inspection, and then sheetrock and prep and then FINALLY the actual finishes. It is a long process but a fun one and I am so excited!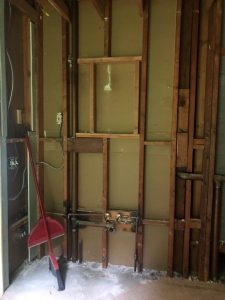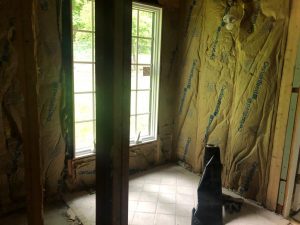 This window is goals.
Thanks for joining!
Kayla from @kayla_llc