Ok, so last week we left off waiting for the last box of tiles… except that box was nowhere to be found. We called every tile store, they were all out of stock. We called the manufacturer, they were out of stock. We could wait four months or figure something out. We figured something out.
Welcome to the drama! And hello to the One Room Challenge visitors, thanks for being here 🙂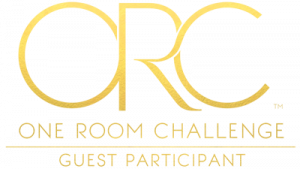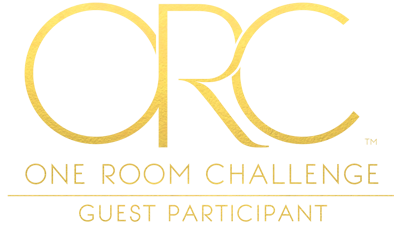 OK, so waiting four months was not an option. Since everyone was out of stock including the manufacturer, I called the stores in my area and asked them if I can have their sample tile from the showroom. We were only missing two tiles in the end, and managed to find two tiles in perfect condition from showrooms! We drove around, got them, and the workers installed them, right in time.
Love that tile. Then it was the wall tiles turn, thank god nothing crazy happened with that. We put up the beautiful white tile, with a stunning gold accent on the wall behind the vanity. I didn't want to have four blank walls, and wanted to anchor the vanity in some way. So, I drew up a little idea and the contractor installed it. I am in love with how it came out, check it out!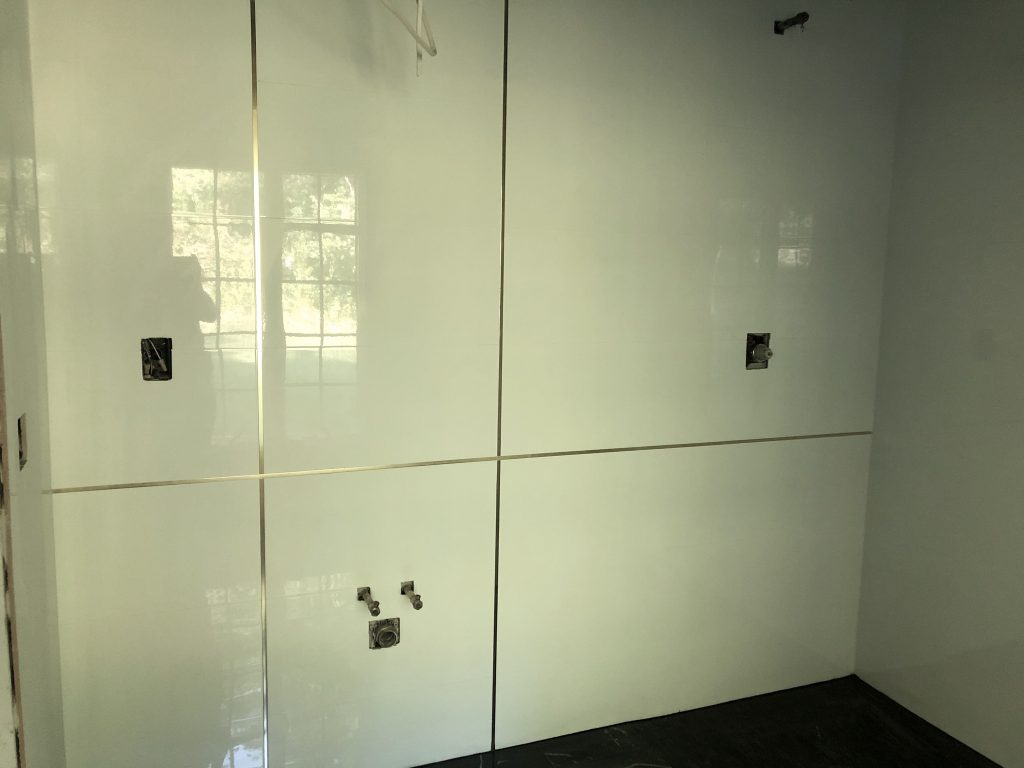 How gorgeous? You can see where the vanity is, and the gold lines are going to perfectly frame the mirror.
Once that was in some more boring work happened like the moldings getting put in, painted white. The ceiling being sheetrocked and painted, etc. The other half of the ceiling that was wood had to get a decision made. If you remember from the post on demo day, we discovered some gorgeous wood in the bathroom and had to decide if we should paint it white or stain it the color of the vanity. I ended up deciding to go with the wood color of the vanity.
Off we went to Home Depot, picked out a few samples and brought them home. I painted some paint sticks to get an idea of the colors and held them up against the vanity to choose one. Once that was done they stained the ceiling and it is looking fire!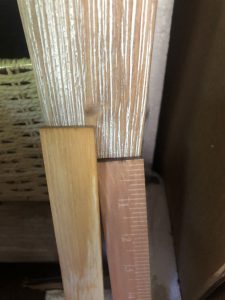 So we stained the ceiling, and started bringing in the fixtures. Then it was time to lay out the shelving and direct the hanging of shelves and mirror.
That is it for now! Next week we finish the electricity, and install the glass shower walls. Then its styling time which low-key is a favorite of mine.
Stay tuned for next installment! It is the last week and it is going to be an amazing before and after! I cannot wait!
Thanks for following 🙂
Kayla